Princess Plus & Premier Offers: Package Details and if it's Worth it
Princess Plus and Princess Premier offer a more all-inclusive experience for cruise passengers… but it comes at a price. For years, some cruise passengers have complained about the "nickel and diming" that takes place on a ship. Between gratuities, drinks, specialty restaurants, wi-fi, and more, the costs can add up.
In fact, the average person can expect to spend about 35-40% of what they paid in cruise fare as onboard spending.
But some luxury cruise lines — including Princess — are making a change. Instead of charging additional amounts for many items, the cruise line is giving passengers the option of including the costs in the fare.
The program is called "Princess Plus" and was recently rolled out in 2020 during the pause in sailing. Since then, it has been a hit and the cruise line rolled out a higher tier offer known as "Princess Premier."
In its most basic terms, passengers booking the Princess Plus program have gratuities, wi-fi access, and a drink package included with their cruise fare instead of having to pay extra for these on the ship. Those booking Princess Premier have the same benefits, but an upgraded drink package, specialty restaurants, a photo package and more. (Celebrity has a similar offer with its Always Included deal.)
That said, there are plenty of questions you might have about the Princess deals, including if it's worth it. Here's what you need to know.
What Is Princess Plus?
Princess Plus is an offer from the cruise line that provides a number of amenities included already with your cruise fare, instead of having to pay for them separately.
Specifically, guests who take advantage of the program when they book their cruise receive gratuities, the Plus Beverage Package, wi-fi (for one device), premium desserts, fitness classes, and juice bar. included with their cruise. Instead of having to shell out for these during the cruise, they are included, providing a more "all-inclusive" experience on the ship.
What Is Princess Premier?
The cruise line started with Princess Plus only, but has added another tier to their offer with Princess Premier.
This package includes gratuities, wi-fi for up to four devices, the Premier Beverage Package, two specialty restaurant meals, a photo package, and entry into Princess Prizes, an onboard game that wins prizes by simply opening your cabin door. As well, Princess includes premium desserts, fitness classes, juice bar, and reserved theater seating.
How Much is Princess Plus and Princess Premier Worth?
With the Plus plan, passengers receive three main benefits. These include:
Gratuities: $16.00 per person, per day ($17.00 for mini-suites, $18.00 for suites)
Plus Beverage Package (drinks up to $15 per glass): $64.99 per person, per day ($76.69 after gratuity)
Wi-Fi for once device ($10-15 per day)
In addition, there are also premium desserts, fitness classes, and unlimited juice bar included.
Added together, the value of the perks is $140 per person, per day according to Princess. For a couple traveling on a 7-day cruise, that comes out to about $1,960 in value, assuming a typical interior, oceanview, or balcony stateroom.
With the Princess Premier deal, passengers receive:
Gratuities: $16.00 per person, per day ($17.00 for mini-suites, $18.00 for suites)
Premier Beverage Package (drinks up to $20 per glass): $84.99 per person, per day ($100.29 after gratuity)
Wi-Fi for four devices at once
Two specialty restaurant meals
Photo package
Entry into Princess Prizes
This package also includes premium desserts, fitness classes, juice bar, a medallion accessory and reserved seating at production shows.
All told, Princess says the value of these perks is $257 per passenger each day. That would come out to $3,598 for a couple on a 7-day cruise.
Considering the cost of the program (see below), booking the package seems to be a tremendous value if you plan to buy the amenities anyway. 
How Much Does Princess Plus and Princess Premier Cost?
At the time of this writing, the Princess Plus package costs an extra $60 per person, per day over the standard base rate.
So for a 7-day cruise, Princess Plus would cost $420 (7 days x $60) per person with the Princess Plus offer. 
Another way to think about it is that with gratuities included (which passengers must pay if they get the package or not), the $60 per day paid for the offer is actually $44 more than a passenger would pay otherwise. For that extra $44, you a drink package, wi-fi, and the other perks.
Princess Premier, which offers more benefits, is priced at $80 extra per person, per day. So a 7-day trip would be $560 per person with the Premier deal included.
Note that we have seen the price difference between the standard fare and the special offers vary slightly around those figures, so you'll want to do the math before booking.
Is This a Limited-Time Sale?
Of course cruise offers can change at any time. At this point, however, it appears that this is simply a new way of doing things for the cruise line, and it will be around for a while. In fact, Princess first started the offer in 2020 and in 2022 added the higher-tier Princess Premier offer. It shows no signs of going away.
Which Drink Package Is Included?
Princess is including the Plus Beverage Package with the Princess Plus offer. This drink package normally costs $64.99 per day, or about $77 once the 18% service charge is added on.
With this package, you get all beer, liquors, and wines prices $15 or under. It also includes bottled water, soda, fresh juices, energy drinks and more. Another nice feature is that the package extends to the cruise line's private islands.
If you opt for the Princess Premier offer, then the Premier Beverage Package is included instead. This includes everything in the lower-tier drink package, but it includes beverages up to $20 per glass. It is valued at $84.99 per person, per day, plus gratuity.
One thing to keep in mind is that the package limits passengers to 15 alcoholic drinks each day. Non-alcoholic drinks are unlimited. 
What Are the Wi-Fi Details?
Princess ships now have MedallionNet, which offers unlimited wi-fi. You simply login to your account and activate the device you're using. The service included in the Plus offer is limited to one device at a time per passenger. With the Premier Package, you get wi-fi for up to four devices at once, per passenger.
MedallionNet claims to be among the fastest wi-fi at sea. The company claims it has a 1.5 gigabit per second bandwidth, which is enough for 1,500 people to stream Netflix at the same time.
What Is 'Princess Prizes' That's Included With the Premier Package?
One item included in the Premier offer you might not be familiar with is Princess Prizes. This is an onboard game that the cruise line offers. Each time you open your cabin door, you look at the screen by your door to see if you've won. There's normally an entrance fee, but it's included with Princess Premier.
The prizes range from onboard credit ($5-250), wine tastings, free cruises, and even $100,000. 
Do I Have to Buy the Princess Plus or Princess Premier Package?
No. When you book, you'll see different prices offered. Of course, you'll see the Princess Plus package and Princess Premier, but you'll also see a lower-priced base rate that's still offered.
The base fare doesn't include gratuities, drinks, or wi-fi. It's available for passengers who choose not to opt-in to the Princess Plus deal.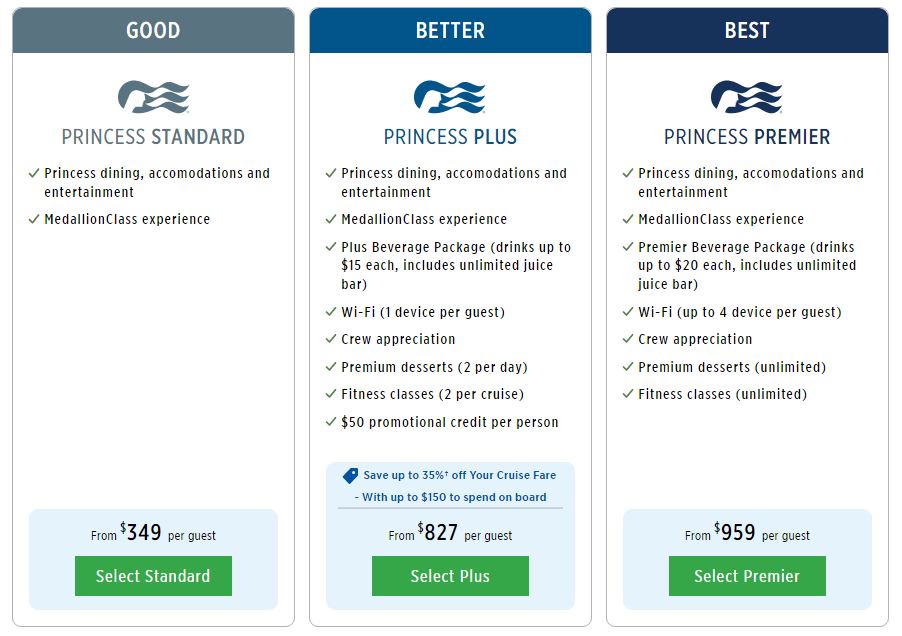 Does Everyone Have to Buy the Deal One Person Does?
In most cases. If you are traveling as a couple, then the offer applies to both people in the room — even if one person doesn't drink or simply doesn't want the deal.
That said, Princess says that if you have a third or fourth passenger in a cabin, then you can opt out of the deal for them by calling the cruise line.
What If a Passenger is Underage or Doesn't Drink Alcohol?
As part of the offer, the Plus or Premier Beverage Package is included. However, some people travel with kids, or they might have a travel partner that doesn't drink.
First, if you book this offer and are traveling with someone underage, then they will automatically receive the Zero-Alcohol Package. This offers non-alcoholic drinks around the ship, including mocktails, energy drinks, soda, coffee, and teas.
If someone is over 21 but doesn't drink, then they will still receive the Premier Beverage Package that includes alcohol. One thing to keep in mind is that the package also includes tons of non-alcoholic beverages. So they can still get just about anything to drink on the ship that they want.
Are Princess Plus and Princess Premier a Good Deal? Are They Worth the Money?
For many cruise offers (such as drink packages), we find that they often straddle the line of being a good deal versus costing you more money. That's not the case here.
With a current price of $60 per day, we feel that just about everyone will get their money's worth with the Princess Plus offer.
At $60, you'll get gratuities included, which run $16 per day for most cabins. Since you have to pay this charge anyway, you're really paying an extra $44 for the program.
For that extra charge, you get wi-fi, which is a $15 per day charge. That means you essentially get a drink package that covers your cruise for about $29 per day. For that amount, just a couple of drinks per day will get your money's worth. You could even get your money's worth easily with non-alcoholic beverages.
The math behind Princess Premier isn't as clear cut. At $80, it definitely offers more perks and a lot of value with everything included. The only question is if you would buy these anyway without the offer. For instance, the wi-fi included covers up to four devices per person. We doubt many people that would use all those connections. As well, the photo package and Princess Prizes may not have appeal otherwise. 
Still, if you want the higher-end drink package, then it's cheaper to opt for Princess Premier than to purchase the drink package alone. Princess Premier costs $80 per day, while the Premier Beverage Package is $84.99 (plus gratuity).
If the standard drink package would be enough for you, however, then the Princess Plus offer may be better suited for your cruise.
Now if you're someone who doesn't want Internet access and plan to stick only with the free beverages that are on the ship, then you won't come out ahead on this deal. For the average cruiser, however, we think Princess Plus is definitely worth it. Those wanting higher-end drinks will enjoy Princess Premier.