Worth It? Princess Cruise Drink Packages Explained (Prices, What's Included, and More)
Wondering if the alcoholic drink package on Princess is worth it? Or maybe you know you want the package, but want to know all the details of how it works before you buy.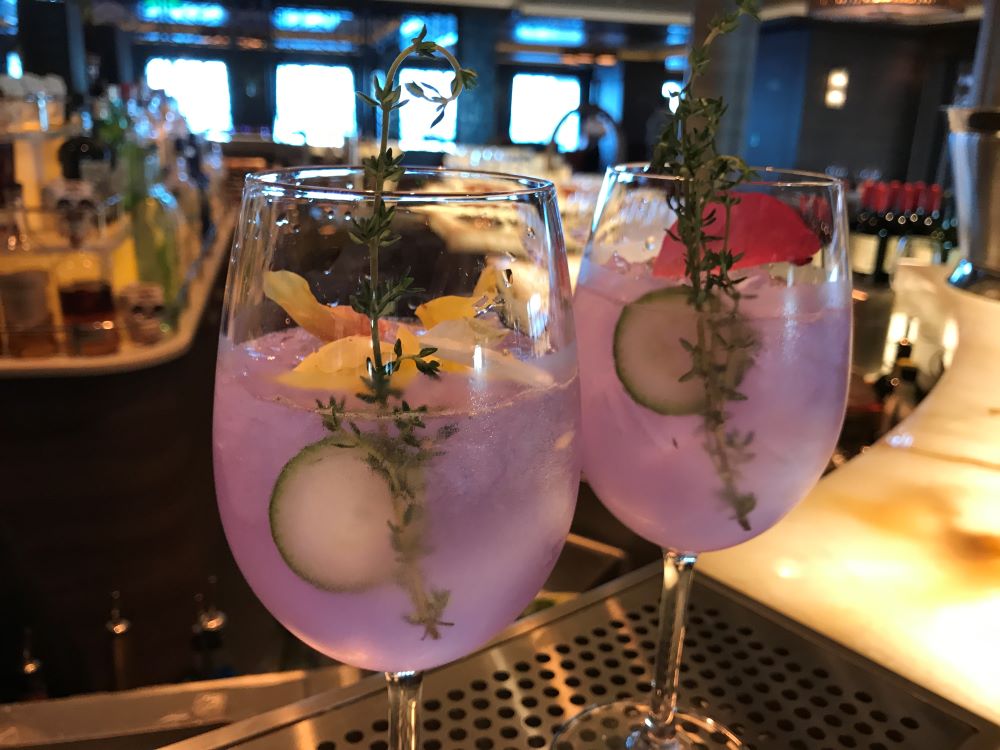 Drink packages have a lot to offer for passengers. Instead of having to worry about paying for each drink — and keeping track of the bar tab — you can simply head up to the bar whenever you want something and order. So whether you have five cocktails or six beers, or a mix of coffee in the morning, wine in the afternoon, and margaritas at dinner, you'll pay one flat fee.
But there is a lot to know about these packages, including some fine print that can help you decide if they are worth it or not on your next cruise.
What Drink Packages Does Princess Offer?
Princess provides two offerings for passengers when it comes to alcoholic drink packages.
These packages are the Plus Beverage Package, featuring drinks up to $15 per glass and the Premier Beverage Package, which is a higher-end offering with drinks up to $20 per glass.
Purchasing one of these packages gives you access to dozens of drink options while on your cruise, running everything from cocktails to beer, water, juices, and soda.
In addition, Princess also offers several non-alcoholic package options, including a soda package, a coffee package, and a Zero-Alcohol Drink Package that includes everything from mocktails to soda to energy drinks. However, we will focus our attention on the ins and outs of the alcoholic drink packages on Princess.
How Much Do Drink Packages Cost?
Unlike some cruise lines that charge varied prices, Princess has stable costs on the drink packages.
The lower tier Princess Plus Beverage Package costs $64.99 per person, per day starting February 2023. There is an additional 18% gratuity charge tacked onto this amount. Therefore, a passenger would pay $76.69 per day. Over the course of a 7-day cruise, the total would come to $536.82.
The higher-end Princess Premier offer runs $84.99 per person, per day or $100.29 after the gratuity amount. That comes to a total of $702.02 for a person on a 7-day cruise.
However, you can get the drink package for less if your purchase it through one of Princess' all-inclusive deals (Princess Plus and Princess Premier). We have more details on this below.
How Does Gratuity Work With the Package?
Princess charges an 18% gratuity on the cost of the drink package when you buy. So while it might have a headline price of $64.99 per day, the actual cost is $76.69. This gratuity covers any drinks you get with the package, however.
So if you make a purchase from the bar with the drink package, it will not have an additional gratuity tacked on — your drink is no cost from the bar. Without the package, you would pay the menu price, plus an extra 18%.
How Do I Purchase the Princess Drink Package?
To purchase the package, you have a few options. First you can purchase the package you want before you sail through your online account or through calling the cruise line. In this case, you'll have to pre-purchase at least four days of getting on the ship.
You can also wait to purchase the package once on the ship. It will be sold onboard during embarkation day.
But there is another way to buy, and that is with the Princess Plus and Princess Premier all-inclusive offers. These deals offer gratuities, wi-fi, a drink package, and more included in the cruise fare. They also provide the best deal for the drink package. See our section titled "Is it Better to Buy the Drink Package or Get it Through Princess Plus/Premier?" below.
What's Included in the Package?
When you purchase your package, you're getting most drinks on the ship included. Both packages include beer, liquor, wine by the glass, bottled water, fountain sodas, specialty coffee/tee, milkshakes, and energy drinks.
Having either package also grants you a 25% discount on bottles of wine, large bottles of water and cans of soda.
For the Plus Beverage Package, it includes these beverages priced $15 per glass or less. For the Premier Beverage Package, it includes beverages up to $20 per glass, giving you more access to high-end drinks.
Princess says that the Plus package offers 50 spirits, along with 25 wines by the glass and 25 beers, the Premier package offers "75 spirits, 40+ wines by the glass, 20+ high-end, crafted cocktails."
What's NOT included in the Drink Packages?
Most drinks you want will be included in the package, but there are some restrictions on beverages you can purchase. All of the following are specifically mentioned as not available with the drink package:
Bottles of alcohol for sale on the ship (except beer)
Drinks from the mini-bar
Buckets of beer
Souvenir glassware
Apart from that, most beverages you see on the ship will be available under the package.
Is it Better to Buy the Drink Package or Get it Through Princess Plus/Premier All-Inclusive Offers?
With most cruise lines, you have a simple option — buy the drink package or not. On Princess, it's slightly more complicated. That's because Princess offers all-inclusive options for their passengers. You can buy the standard base fare with just the cruise included, or you can buy one of the following offers:
Princess Plus ($60 per person, per day): Includes cabin, plus wi-fi (one device), daily gratuities, and Plus Beverage Package plus premium desserts, fitness classes, and juice bar.
Princess Premier ($80 per person, per day): Includes cabin, plus wi-fi (four devices), daily gratuities, specialty dining (two meals), photo package, Princess Prizes, and Premier Beverage Package plus premium desserts, fitness classes, juice bar, and reserved theater seating.
As you can see, the price for these all-inclusive options is less than the cost of the drink package alone. In addition, you receive even more perks — such as daily gratuities and wi-fi — included.
If you know you plan to purchase a drink package, then it's a much better value to get it through the all-inclusive offers instead of purchasing it by itself at the current prices.
You can read more about these Princess offers here.
Can I Share the Package?
No, you can't get a package and then share drinks from it. Princess says specifically that "packages may NOT be shared, are NON-transferable and NON-refundable."
Will the cruise line know if you get a drink and then pass it one to someone without the package? Likely not, however, it is against the rules. If caught, then the cruise line says they reserve the right to cancel the package.
Do I Have to Buy the Package for the Entire Cruise?
Yes. One aspect of drink packages — including Princess' offering — is that they are required to be bought for the entire cruise if you decide to purchase. You can't pick and choose days.
Princess specifically says that "partial/pro-rated packages or purchase for segments of a guests voyage are NOT accepted."
Is There a Limit on the Number of Drinks You Can Have?
There is a limit on the number of alcoholic beverages that you can order per day.
Princess places a limit of 15 alcoholic drinks per 24 hours, going from 6 a.m. to 6 a.m. If you try to exceed this limit, then the cruise line says it's "at the discretion of shipboard management and crew" but will be charged the menu price.
However, non-alcoholic beverages don't count in this figure and there is no limit on how many you can have. So don't worry that having a bottle of water in between drinks is going to limit how many cocktails you can have.
Does The Drink Package Work on Private Islands or Ports?
When in a typical port of call, the drink package does not extend to land. Since these spots are independent of the cruise line, don't expect to be able to use drink offer to get a beverage on shore.
However, Princess says that the package can be used on their private islands. So if visiting one of these spots, you can use the package just like on the ship.
Are Princess Drink Packages Worth the Money?
Whether or not a drink package is worth the money is often a point of contention. With the Princess deal, however, we think it's definitely worth it for most people.
If purchased on its own, the math behind the package may not work for you. After all, you have to drink enough each day to make up for the cost of the drink package. With Princess' all-inclusive offers, however, the math shifts strongly in favor of having the package.
For example, the Princess Plus package costs passengers $60 per day. For that amount, you get daily gratuities ($16 per day for most cabins), wi-fi, and the drink package.
Even if you don't use the wi-fi service at all, the cost of gratuities is something you'd pay for no matter what. Subtracting that cost out, it means you'll pay $44 total for the drink package. That's the cost of only a handful of drinks each day, and don't forget that non-alcoholic beverages like specialty coffees, water, and soda are also included.
So if you know you want the package, we suggest opting for one of Princess' all-inclusive options as it's less expensive. And when you consider what's included in the deal, it makes the math work strongly in favor of the drink package if you plan to drink even a moderate amount.
For more on drink packages, you can explore the links below: