Woman Sent Hilarious Picture of Her Two Cats Fighting While Away On Holiday
A pet owner got quite the surprise after asking her sister, who is currently cat sitting while she's on vacation, to send her a picture of her two cats.
Cats may give off an air of aloofness, but some studies have suggested that, much like dogs, they are quite attached to their human companions.
The most notable of these studies was published in the Public Library of Science in 2017 and saw researchers observe how cats behave when left for 30 minute compared with after several hours.
Time and time again, the cats showed a strong reaction when reunited with their owners after an extended period of separation, with felines found to purr and stretch more when their human friend returned.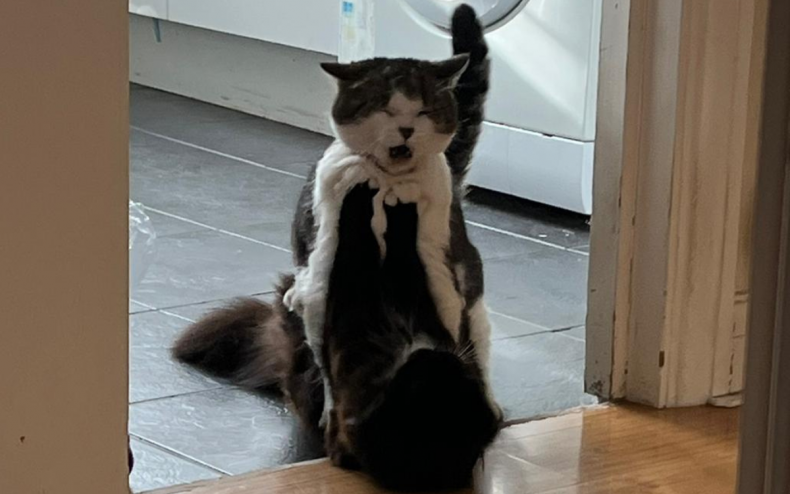 There's certainly no doubting the fact that pet owners often find themselves pining for a cat or dog left at home due to the complexities of international travel with animals.
In these instances, it's not uncommon for them to ask for a picture or video of their four-legged friend, just as a source of comfort to know they are well.
All of which only makes the experience of one London-based cat owner, Lesley, that bit more amusing. Currently busy on holiday with her partner Ty, Lesley enlisted the help of her sister Catherine to look after their two cats, Truffles and Treacle, while they were away.
But, when she asked Catherine to send her a photo to keep her updated on how things were going, her sister decided to play a bit of a trick on her. Rather than send the usual picture of the two cats lolling around the house, she instead opted to send one that captured Truffles and Treacle, quite literally, at each other's throats.
The image of the battling cats was later shared to Reddit. "Whilst on holiday, my sister asked for an update picture of her two cats. This is what she got…" the caption on the post wrote.
In the image, Treacle, the black and white cat, can be seen standing over Truffles, with the pair grappling at each other. Treacle also appears to be grimacing while letting out an angry meow.
It's an image for the ages and one that has proven a smash hit on social media, racking up over 54,000 upvotes with some describing it as two cats engaged in "Mew Jitsu."
"So everything is fine then," one person joked in the comments with another adding: "At least they're alive."
"If you're familiar with The Lion Kingyou know how this is going to end," a third commented with a fourth simply writing: "Seems normal."
Speaking to Newsweek, Catherine, who posted the picture as 0MoodIndigo0, explained the unique dynamic that exists between the female cat pair.
"Truffles is the older one," she said. "They don't necessarily get on, it's more that Truffles tolerates Treacle," adding that "Treacle moved in a year and a half ago. Treacle wants to play with Truffles but Truffles is a very serious cat."
She said the picture was taken "spontaneously" by a visiting relative, so she decided to send it on to her sister. "I'm not sure what started the fight but they suspect it was Treacle once again trying to play with Truffles, who was having none of it."
thankfully, like much of the internet, Lesley saw the funny side.
"She thought it was the most hilarious thing she'd ever seen. She knew it wasn't aggressive and that it was just Truffles putting Treacle back in her place," Catherine said. "She just loved how the picture captured that perfect moment in time."
As for the reasons behind the image's viral success? Catherine puts it down to Reddit's "general love of cats."
"It's the epitome of cat behavior," she said. "Vicious fighting only to then return to an indifferent tolerance of one another."
Do you have funny and adorable videos or pictures of your pet you want to share? We want to see the best ones! Send them in to [email protected] and they could appear on our site.